"A new age is upon us…and we fight, to make it ours."
—Final Fantasy XIV: A Realm Reborn Game Trailer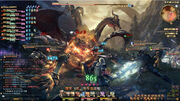 To complete the cycle of modifying the game after the initial reception, Square Enix announced a "2.0″ update of the game named Final Fantasy XIV: A Realm Reborn. A Realm Reborn is not an expansion pack, but an entire reworking of the game built from the ground up. The project's Alpha testing began in November 2012.
The update will require an all new client, available for download to players around the release date. It uses a different engine and will drastically redesign the game world map and boast completely different graphical and server structures; the new engine is said to be better optimized for both lower end PCs and the PlayStation 3. The main storyline will be slightly modified to fit in with the new Eorzea, but ultimately be the same, happening five years after the fall of Meteor.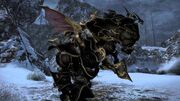 Several other features are planned to be released around that date, including Player vs. Player (PvP) content. They have mentioned the addition of Miqo'te males, Highland Hyur and Roegadyn females as playable races, more character creation options, summoning and pet systems, auction houses (expanding on the current Market Wards), dungeon maps readable by disciples of the land, chocobo-back battles, player-run companies, and other adjustments and new systems, though many of these may appear after the 2.0 client has been released.
Recent artworks show concepts of Magitek armor from Final Fantasy VI planned to be a player mount, and inclusion of more monsters from earlier titles such as Behemoth and Iron Giant.
FFXIV PS3 InterfaceA screenshot of Playstation 3 version, showcasing the new UI.
During E3 2012, new information regarding the release for the PlayStation 3 version and the 2.0 revision of the game, along with new screens and artwork of the content for the update, was released.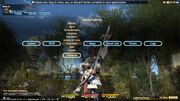 It included concept art for Typhon, a series recurring enemy, Fenrir with a design similar to that of the one seen in Final Fantasy XI, new screenshots of male Miqo'te as a Paladin and another as a Dragoon, as well as many new weapons and equipment. The first gameplay presentation was shown at Gamescom, and the Final Fantasy 25th Anniversary event on September 1st featured a keynote with Naoki Yoshida.
On July 5, 2012, Square Enix launched a new teaser site.
The Alpha Test, carried during the last several weeks of 2012, was an encouraging success. Many praised the Alpha for having far more content than was needed to conduct server stress tests.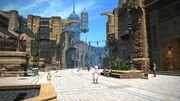 The Beta Test application site is currently open, and the ARR beta commenced on February 25th, 2013, with testing currently in Phase 3. Legacy members and players with a Final Fantasy XIII Members Registration Code will be given priority for selection in Phase 1 of the Beta, but more testers will be invited regularly until the game's launch; Phase 4 is currently slated to be an "open beta" in which progress made will carry forward into the release game, and in which virtually everyone who applied for testing beforehand will be allowed in.
Barring any last-minute emergencies, ARR is currently scheduled to launch on August 27, 2013, on both the PC and with the long-awaited PlayStation 3 version. Players who pre-order ARR will get "early access" to the release game ahead of the official launch date.