"Every time I finish recording a theme song, I first have my wife listen to it. She gave high marks to all the previous songs, but she didn't really care for "Suteki da ne." I lost a little confidence then; but once the song was released, it made the top ten on the Japanese charts, so I'm relieved."
—Nobuo Uematsu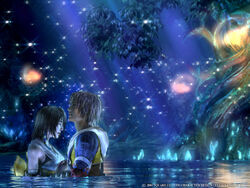 "Suteki da ne" (素敵だね, Suteki da ne?, lit. "Isn't It Wonderful?") is a song used as the romantic theme in Final Fantasy X. It was written by Nobuo Uematsu and Kazushige Nojima, and was sung by RIKKI.
Lee Soo Young sung the Korean version of the song, titled (Eolmana joh-eulkka, lit. "Wouldn't It Be Wonderful?"). It appears in the Korean version of Final Fantasy X International.
Development
Uematsu initially had difficulty composing the theme song for Final Fantasy X, even after having found the perfect singer. In the "Beyond Final Fantasy" feature, Uematsu explains the way he went about composing "Suteki da ne".
"Regarding the theme song, my first concern was to find someone to sing it. The Asian-inspired theme had nothing to do with the choice, but since I was personally interested in Okinawan music my staff and I looked at various CDs of that particular region. That's when one staff member found some CDs by Rikki. I had never heard a voice quite like hers and I contacted her immediately. After that, I had the chance to visit her hometown of Amami Ooshima and meet her several times. I had a certain image for the song in mind, but it was difficult to complete. The deadline was fast approaching so I tried changing my work environment to finish the song. I took the synthesizer from my office and brought it into the reception room. After the girls at the front desk left for the day I sat there alone through the night composing my songs. After this switch I was able to compose nearly ten songs in an hour. Any of them could have been used but I took the one I considered best for the theme. I completed the melody first so I had Nojima write the lyrics afterwards. We both celebrated the night it was completed."
—Nobuo Uematsu
A music video of the song is included in the "Beyond Final Fantasy" feature included with the International and PAL versions of Final Fantasy.